FASTENERS (BOLTS, SCREWS, STUDS)
BUSHINGS (BEARING,ISOLATOR)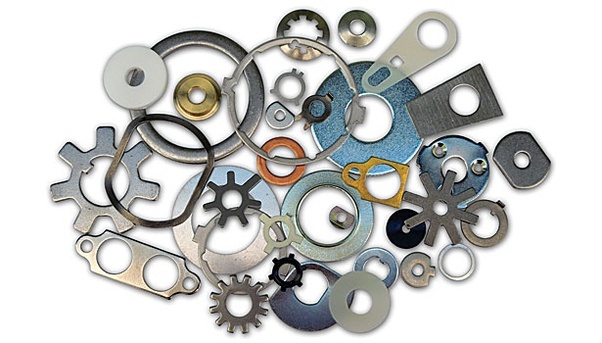 Shteinen washer is a thin plate (typically disk-shaped, but sometimes square) with a hole (typically in the middle) that is normally used to distribute the load of a threaded fastener such as a bolt or nut.
Shteinen washers are made of a variety of materials, the most popular of which are galvanized carbon steel and stainless steel. Carbon steel is stronger than stainless steel, but stainless steel will not rust or corrode like carbon steel can. Other metal washers include zinc, copper, brass and iron. You can also find specialty washers, such as plastic washers, rubber washers, ceramic washers and phenolic washers. 
There are three main types of washers: plain washers, spring washers and lock washers. Within each of these categories are more specialized forms that serve unique purposes.
Plain washers, which spread a load, and prevent damage to the surface being fixed, or provide some sort of insulation such as electrical
Spring washers, which have axial flexibility and are used to prevent fastening or loosening due to vibrations
Locking washers, which prevent fastening or loosening by preventing unscrewing rotation of the fastening device; locking washers are usually also springing washers.
Visit Us
Zafer Mah. Haramidere Yolu Cad. No:28 Sembol Istanbul, C Blok Kat 17, Ofis 355-356